Ezra, Oliver, Mommy, and Daddy were 30 (thirty) miles from Brownsburg where the restaurant was located.
L Yfe20により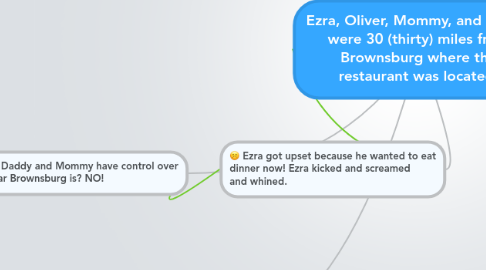 1. Will whining help Ezra, Oliver, Mommy, and Daddy to get to the restaurant quicker? NO!
1.1. Does whining make Ezra happy? NO!
1.2. Does whining make Mommy and Daddy Happy? NO!
1.3. Does whining make Oliver happy? NO!
1.4. Are there other things to do besides whining? YES!
1.4.1. Ezra can do Peaceful Piggy Meditation.
1.4.2. Ezra can write on his purple writing board.
1.4.3. Ezra can have a conversation with his Mommy and Daddy.
1.4.4. Ezra can sing a pretty song, like "Twinkle, Twinkle, Little Star."
1.5. Will doing other things besides whining help the family get to the restaurant more quickly? NO. BUT, doing other things will make the ride more pleasant and will make it feel like a shorter ride! The time will pass more quickly.
2. Ezra got upset because he wanted to eat dinner now! Ezra kicked and screamed and whined.
3. Do Daddy and Mommy have control over how far Brownsburg is? NO!