I sat down with a millionaire who operates 10 businesses while sailing around the world with his family
par Danny Forest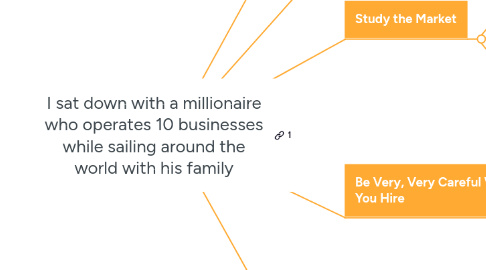 1. Multiple Revenue Streams
1.1. Don't look for something high-profile and instantly viral.
1.2. Help a specific type of person by providing a quality solution, over and over again.
1.3. Multiply a small, quaint, and profitable business by ten and you've got a diversified, multi-million dollar portfolio.
2. Do Not Partner
2.1. Co-founding is overrated.
2.2. Learn the skills yourself, bootstrap, and then hire the right people
3. Study the Market
3.1. Find smaller markets that are two to three years behind the larger market
3.2. Find out what is selling in the bigger market, and be the first to open a shop in your small market.
4. Be Very, Very Careful With Who You Hire
4.1. Find multi-skilled employees transferable between business lines
4.2. Give each manager full control of their business.
4.3. Through a tight incentive plan, make sure that if the business does well, they do well.
4.4. Look for people who are independent and responsible, who take complete ownership of their business.
4.5. Do fun things together.
5. How to Do Well in Business
5.1. To be successful in business does't mean changing the world.
5.2. Meet a need (regardless of size) well and dependably over time.
5.3. Sell a product, make sure its quality, then sell it at a fair price
5.4. Make sure the breakeven point is doable for you as the business owner.
5.5. If it's a service, add value, as in you are very good and knowledgeable in your field, and the service provided is unique