TE-services = Public employment and business services
par Jaana Paananen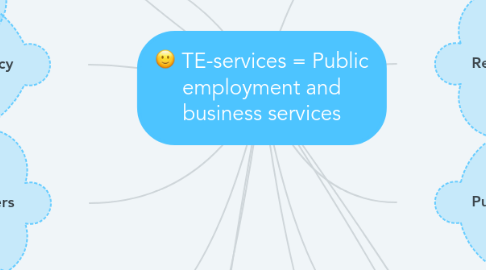 1. Values in the daily job – civil servant's ethics. Edita, Helsinki 2005 http://vm.fi/documents/10623/307711/Values_in_the_daily_job_publicatio n+140105.pdf/c075c517-3a76-4e24-9a89-e4a31d7421e2
2. OECD.2000. Trust in government. Ehthics measures in OECD countries. http://www.oecd.org/gov/ethics/48994450.pdf
3. Equality
3.1. all customers are equal to get services
4. Trust
4.1. same services in every part of Finland
5. Responsibility
5.1. responsibility to answer for both the public and the government
6. Neutrality and impartiality
6.1. Not to be bought, no corruption. Fair to both unemployed and employers.
7. Transparency
7.1. Services are based on the law
8. Public service
8.1. for all customers
9. Free for customers
9.1. No fees for the unemployed or for the employers mostly
10. Quality
10.1. all customers are equal. Servives are affordable for the government.
11. Experitise
11.1. high standards for TE-workers. Services for unemployed and for employers
12. Service principal
12.1. public good
13. Effectiveness
13.1. solutions without delay, with low cost.
14. References: