EDT ePortfolio Example
por Arlene Westphal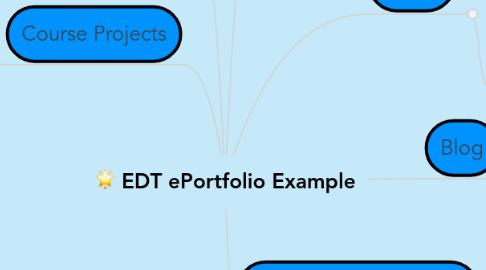 1. Tagline: a website for my students
2. Home
2.1. My Home page will contain my name in the Title and in the Banner (all pages), at least one well-developed introduction paragraph, a headshot photo or avatar.
2.1.1. Social Media Icons: I will add Weebly SM icons; and at least one entry related to my website on one of them
2.1.2. Optional Logo: added to the banner with my name included in the logo, or a logo on my home page.
3. Contact
3.1. The contact page has a form visitors may complete, to contact you. You do not typically provide your phone or email.
3.1.1. Social Media Icons: I will also add Weebly SM icons
4. Course Projects
4.1. This page will have a general description of the relevancy of my projects to my future career or field of study, with some of my favorites highlighted. I might list them and create page hyperlinks.
4.1.1. Digital Photo: This photo will be an illustration of how teachers may edit images for learning purposes.
4.1.2. Graphic Design/QR Code: will be a business card
4.1.3. Tech Talk PowerPoint: mine will be about a collaborative tool for teachers
4.1.4. Google Form: a student assessment survey, and a folder with examples of Google collaborative Docs.
4.1.5. Infographic: for new teachers, some tips and statistics
4.1.6. Screencast about how to navigate my site, and a screenshot for how to join my Facebook page.
4.1.7. Google Products Presentation: TBD
4.1.8. Digital Story: Active Parental Guidance, with a mind map storyboard.
4.1.9. Cover Letter & Résumé: for a teaching position
5. Professional Resources
5.1. This page will contain Web 2.0 resources for teachers
5.1.1. Podcasts about education, Poll for students to rank aspects of school, and collaborative tool that would be beneficial to teachers.
6. Blog
6.1. This page will have at least one blog entry for Emerging Technologies, and possibly another.
6.1.1. Emerging Technologies Blog: will be about my experience with coding activities