Sales - Web Dev - SEO Ops: Process
von Steve Loren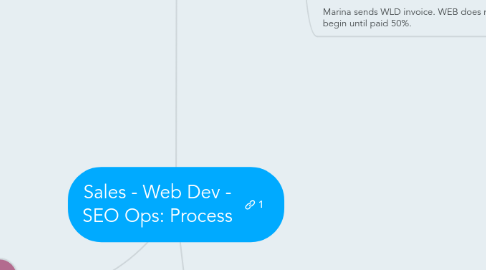 1. New Sales Inquiry Process
1.1. Intake @ FD
1.1.1. If via social, SMM responds to prospect, thanks them, gets phone number, relays to FD
1.1.2. If walk-in, passes client to Curt or Kory (if Curt is busy or unavailable), seats client in conference room
1.1.2.1. Schedule call if neither is available
1.1.3. If phone, passes to Curt or Kory (if Curt is busy or unavailable) for consult
1.1.3.1. Schedule call if neither is available
1.1.4. FD takes notes
1.1.5. If email/referral/ website inquiry, or inquiry from social, or if a call needs to be scheduled
1.1.5.1. FD Calls Client
1.1.5.1.1. FD schedules sales call
1.1.5.1.2. If cannot schedule, sets another call to prospect, to be repeated until contact is made or negative response from prospect
1.2. FD adds as a "Deal" to pipedrive
1.3. Sales Call or Meeting: Take Notes, Schedule Proposal Review During Discussion
1.4. Analysis / get input from team members, if needed
1.4.1. Web Team
1.4.2. SEO Team
1.5. Proposal Written and Sent
1.5.1. 48 hours Proposal Turn Around
1.5.1.1. Curt Sends F/U email if no acknowledgement from client (Immediately Following Sent Proposal)
1.6. Follow-up by Kory if New, FD if older
1.6.1. By Kory (if proposal sent less than two months ago)
1.6.1.1. Did they receive proposal?
1.6.1.2. Do they want to get started?
1.6.1.3. Do they have any questions?
1.6.1.3.1. schedule a review with Curt
1.6.1.3.2. review with them if easy questions
1.6.1.4. What do they need from us to get started?
1.6.2. By FD (if proposal sent more than 2 months ago)
1.7. Client Signs Agreement
1.8. Curt or Kory: add project scope and any related files/details to Basecamp PROJECT STATUS thread
1.8.1. Curt Turns agreement into a Scope Doc.
1.8.1.1. Chris and Amal Copied on Scope Doc.
1.9. Chris: initial invoice
1.10. Front Desk: get payment for Web & recurring payment CC information
1.10.1. Project does not move forward without both (Web is 50/50 pay)
1.10.2. Large-scale projects may have bi-weekly or other terms.
1.11. Client makes payment
1.12. Chris or Amal: launch project
1.13. Marina sends WLD invoice. WEB does not begin until paid 50%.
2. Web Development Process
2.1. Receive invitation to BC and check payment was received
2.2. Marina creates invoice and sends to Chris for payment.
2.3. Review proposal and prepare questions for SEO team and client; identify gaps
2.3.1. Cross Team Proposal review
2.3.2. Technical assignment/requirements for functionality rich projects
2.3.3. SEO project or not
2.3.4. Content writing
2.3.4.1. Clarify whether Client / SEO Dogs / combined effort - New Proposal May address this
2.3.5. Price vs scope
2.4. If SEO project, contact SEO team if there are questions regarding the scope
2.5. Schedule first a call with the client to review scope, start site map and go over design/functionality requirements; identify additional scope if any, alert Curt if any additional charges
2.6. Request hosting and site access information
2.7. Schedule second call to plan home page layout and plan content for every page
2.7.1. Need a content team member present for these calls
2.8. If SEO project, consult with SEO team regarding content and site map
2.9. Get site plan approval from the client
2.9.1. Requires in writing that SM is "approved"
2.10. Request final content from client or SEO team to be uploaded to Jumpchart
2.11. Begin design process following Big D Creative: Webloft Development Milestones
2.12. Present layouts to the client, Keeping track of revisions
2.12.1. Share the content templates with Marina
2.13. Get Design approvals
2.14. Send approved unique layouts to production
2.15. Begin development process
2.16. Create development site on our servers
2.17. Internal QA
2.18. Request missing content from client or SEO team
2.19. Install missing content
2.20. Give access to development site for SEO team for editing(potential issue of content not matching the layout)
2.21. Meta data: request access to existing site from client in order to copy it to the new site. For non-SEO projects - copy/paste; for SEO projects - consult with SEO PM
2.22. Internal QA
2.23. Present development site for client's review
2.24. Implement final changes from client and SEO team(potential issues with out of scope design and functionality requests)
2.25. Internal QA
2.26. Request final client's approval to launch
2.27. Verify receipt of payment with Chris
2.28. 404 page and 301 redirect
2.29. Launch
2.30. Client CMS training
2.31. Maintenance upon request
3. SEO Support Process
3.1. Launch SEO Project in Basecamp
3.2. Review Proposal, Notes from Curt and Review site
3.3. Monday- Assign PM and go over the proposal, notes and check all logins (if available)
3.4. Tuesday- PM review proposal, analyze the site , keyword research, site audit, prepare questions for sales team meeting.
3.5. Wednesday- PM & sales meeting
3.5.1. WebLoft in meetings if web?
3.6. Thursday - PM add & welcome the client to BC and send Questionnaire, What to Expect, Project Policies and ask for kickoff call.
3.6.1. All templates, questionnaires to be reviewed for simplification
3.7. Team Project Meeting then PM Assign / Invite Specialists (No standard timing/day)
3.7.1. PM assign tasks for the specialist for month one (This cycle repeats monthly)
3.7.1.1. PPC
3.7.1.2. Organic SEO
3.7.1.3. Social Media
3.7.1.4. Content
3.7.1.5. Local SEO
3.7.1.6. Link Building
3.7.1.7. Web development changes
3.8. Set Up / Connect to SEO Reports: Raven Tools. Set Up / Connect Google Search Console. Set Up / Connect Google Analytics Check / Test Conversion Tracking in Google Anlaytics Set Up & Test Tracking Code on Website Google Analytics: Set Project Goals and Filters