EXPLORING SPEAKING FLUENCY DEVELOPMENT IN AN EFL PROGRAM
von dina barrios acosta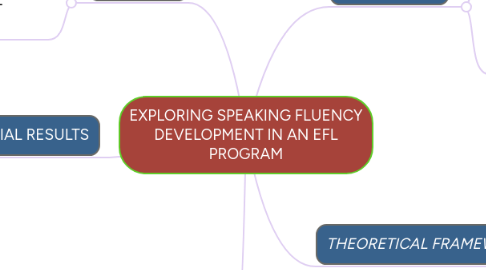 1. DESCRIPTION
1.1. Universidad del Atlantico
1.2. Two groups of English level I
1.2.1. Aged 15- 18
1.2.2. Aged 21- 25
1.3. PROBLEM
1.3.1. Difficulties to express ideas
1.3.2. Recipient doesn' t understand the message
1.3.3. English doesn't sound natural
2. THEORETICAL FRAMEWORK
2.1. Nation & Newton (2009)
2.1.1. Fluent  language use involves the processing of language in real time
2.1.2. "learners demonstrate fluency when take part in meaning- focused activity and do it with speed and ease without holding up the flow of talk" (p.132).
2.2. Celce-murcia et al.,( 2014 )
2.2.1. A  fluent speaker uses correct patterns automatically in a normal conversational speed.
2.2.2. Fluency circle a /  role play technique
3. INITIAL RESULTS
3.1. fluency
3.2. Perceived motivation
3.3. Participation
4. PROPOSAL
4.1. To explore the role of fluency development techniques in the context of a population of A2 students in a Colombiana Caribbean outreach EFL programa.
4.1.1. To implement techniques for fluency development in two groups of EFL students with A2 English proficiency level.
4.1.2. To evaluate students' fluency development on the basis of the techniques adopted in two different groups.
4.1.2.1. Role play
4.1.2.2. Fluency circle
4.1.2.3. 3/2/1 technique
4.1.2.4. Storytelling
5. PLAN AHEAD
5.1. To apply The speaking exit exam
5.2. To compare the results of the entrance and exit exam.
5.3. To completé the research paper