Webimax Internet Marketing
von Jess Gavin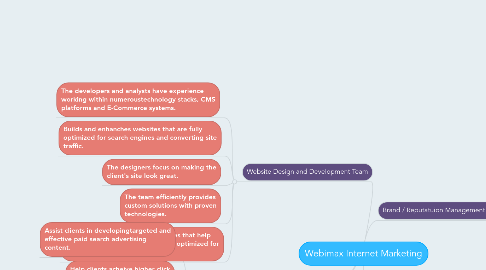 1. Website Design and Development Team
1.1. The developers and analysts have experience working within numeroustechnology stacks, CMS platforms and E-Commerce systems.
1.2. Builds and enhanches websites that are fully optimized for search engines and converting site traffic.
1.3. The designers focus on making the client's site look great.
1.4. The team efficiently provides custom solutions with proven technologies.
1.5. Evolves with new tools and practices that help client's sites to be more effectively optimized for search engines and conversions.
2. Brand / Reputatuion Management Team
2.1. Managing the repuatation and identity of clients.
2.2. Improving the reputation and identity of clients.
2.3. Understanding the aspects of client's brands.
2.4. Assisting clients impacted my negative information.
2.5. Strive to develop pro-active campaignsto devlop postive personas for client's brands.
3. Social Media Team
3.1. Designing a social media strategy built specificly for the client.
3.2. Deciding the best audiences to target.
3.3. Evaluating and determining the most effective platforms for the client's business.
3.4. Implementing the client's social media platform.
3.5. Actively managing the client's social media presence online.
4. Public Relations Team
4.1. Publicizing and generating visibility for clients.
4.2. Create PR initiatives for clients such as: media engagemets, press release distribution, etc.
4.3. Determine opportunities for clients.
4.4. Discover evolving trends in client industries.
4.5. Continue with strategy development and information sessions to effectively serve client needs.
5. Paid Search and PPC Team
5.1. Assist clients in developingtargeted and effective paid search advertising content.
5.2. Help clients acheive higher click through rates.
5.3. Improve client's ROI Return on Investment).
5.4. Rapidly increase visibility and profitibility online.
5.5. Create and manage paid search / pay per click campaigns for clients.