#EIBTM13hybrid ->The FRESH Conference Track - #EIBTM 13 Hybrid Meetings; are remote participants a pain in the Neck? lookout for wildly innovative pain relievers at #EIBTM13hybrid
von Ruud Janssen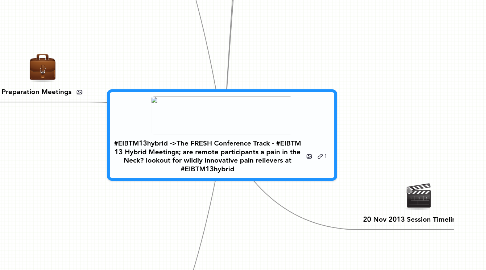 1. Learner outcomes
1.1. Learning to explore the perspectives of the stakeholders at Hybrid events
1.2. Exploring a select number of the 11 functions of communications and how they can empower participants at hybrid events
1.3. Analysing the most common problems encountered and tips to resolve them
1.4. Explore a case study of the Fresh 2013 Conference and the hybrid component therein
2. Case study
2.1. Coverage of the session
2.2. Hybrid at Fresh 2012
2.2.1. Hybrid meetings: the fresh kid on the block... Maarten Vanneste, Founder and President of the Meeting Support Institute On-line. There is a new kid in town and it's called the hybrid meeting. Hybrid means composed out of two complementary elements, in this case an audience on site and one on-line. Even if you don't realise it, any association meeting most probably is already hybrid, in a small way. There is an audience out there following the conference via social media: they read the tweets, send in comments or questions and have a dialogue with participants about your conference... And like it or not, some of your participants are even filming and sharing sessions with friends via iPad or smart phone with channels like Skype. You may (or plan to) webcast and/or record for on demand (post event) viewing: that is already a big first step and much more is coming our way! That people in different places can see and hear the presentations on their computer or mobile device is what I would call a 'real remote audience' and so the meeting now is a 'real hybrid' meeting. The next thing is to get the on-line participants more actively involved and engaged. Your on-site audience falls asleep or starts checking e-mails when presentations are boring and too long. In the same way will you see on-line participants checking out on the webcast dashboard, because of the same long and boring presentations. So if a speaker is not yet presenting in a dynamic way with visuals, engaging participant discussions for the live audience, the pressure just went up a bit. Speakers now also can engage the on-line participants in a different way from the on-site participants. Successful hybrid conferences engage ALL participants. Looking at what is possible with existing technology and techniques today, the on-line audience may be the new participants we will all be fighting for. There is a big market out there: let's say 10.000 potentials if 500 of them get together at a conference, that is a nice percentage. The group in between the 10k non-participants and the 500 participants are the on-line participants. The group may be small or large, they can be paying or not, but it is definitely a group with one foot in the door. The conference that does a good job on-line has more potential to grow on-site than one without. And with a creative team, the possibilities are almost unlimited. A new battle for participants is on! Like it or not, the on-line stuff is coming. There are limits, it will never be as good andas much fun as the real deal, but it is coming. Fear not, the on-line will only cannibalize your event a little bit, but in the long run it will add to the value (and cash?) your conference generates for members and even for non-members. There are several areas that you can look at: social media, your mobile app and the chat, sound or video channels you make available for the on-line participants. There are several webcast companies, social media professionals and mobile app providers, etc. if you have a large team you may choose to get all these as direct suppliers. In case you want to integrate and have a one stop shop, you may want to talk to your AV or production company. It is essential in this spider web of interlinked AV and technologies that things stay stable. It is not smart to change suppliers every year: make sure you have a team in place that knows each other and work well together. This is the only way to create a stable system that ultimately will drive attendance and revenue. Best practice: FRESH conference 2013: The FRESH conference 2013, FRESH13, was the second only but was a tremendously innovative hybrid conference. 175 people registered including about 40 on-line participants! The cost for on-line was € 95 - a fraction of on-site, but still a nice contribution to all the cost of the on-line production. Fresh webcasted this year one 'screen' as TED does: you can see EITHER a camera image OR the slides, just like a TV show. We did not make a composition of one window or 'screen' for slides and another window for the camera at FRESH12: click here. We also created three on-line meeting places: two for registered participants and one for 'visitors'. The success was mixed and again we learned a lot. A laptop with headset was available to on-site participants that could walk up to the laptop, see who was on-line and if they wanted pick up the headset and talk to them. Banz Ledin from Spotme talked to his new team member Evelien Aernaoudts who was an on-line participant in Belgium. At Fresh we did several more things. One was born at FRESH and we named her Hybrid Angel. More in another issue of this newsletter... Maarten Vanneste, CMM, is founder and President ot the Meeting Support Institute (MSI), Organizer of the FRESH Conference. He has been a featured speaker at several UIA Annual Meetings. UIA and MSI are in regular contact on topics of shared interest. http://meetingsupport.org, www.thefreshconference.com
2.3. Hybrid fresh 2013
2.3.1. Video Compilation (to run on the background)
2.3.1.1. https://vimeo.com/62934605
3. Hypotheses
3.1. EIBTM-Hybrid Meetings; are remote participants a pain in the Neck? lookout for wildly innovative pain relievers at #EIBTM13hybrid
4. 20 Nov 2013 Session Timeline
4.1. Room
4.1.1. Conference 5.1
4.2. 13:00 - 14:30
4.2.1. 13:00 - 13:15
4.2.1.1. Welcome
4.2.1.1.1. Ruud Janssen, CMM
4.2.1.1.2. Audience Panorama photo
4.2.1.2. Hypotheses
4.2.1.2.1. #EIBTM13 Hybrid Meetings; are remote participants a pain in the Neck? lookout for wildly innovative pain relievers at #EIBTM13hybrid
4.2.1.2.2. Learner outcomes
4.2.1.3. The format
4.2.1.3.1. The Pains & Gains lottery
4.2.1.3.2. AV Production cue
4.2.2. 13:15-13:30
4.2.2.1. Introducing your Moderator & Hosts
4.2.2.1.1. Ruud Janssen, CMM
4.2.2.1.2. Maarten Vanneste
4.2.2.1.3. Martin Ferro Thomsen
4.2.2.1.4. Stefania Conti Vecchi
4.2.2.1.5. Paul van Herck
4.2.3. 13:30 - 13:40
4.2.3.1. Lottery Round 1
4.2.3.1.1. Every lottery round will have the same sequence
4.2.4. 13:40 - 13:50
4.2.4.1. Lottery Round 2
4.2.4.1.1. repeat sequence 1
4.2.5. 14:00 - 14:10
4.2.5.1. Lottery Round 3
4.2.5.1.1. repeat sequence 1
4.2.6. 14:10-14:20
4.2.6.1. Lottery Round 4
4.2.6.1.1. repeat sequence 1
4.2.7. 14:20 - 14:30
4.2.7.1. The Verdict
4.2.7.1.1. Moderator wrap up + each table host gives their 2 minute view + verdict vote on hypothesis
5. Preparation Meetings
5.1. 5 Nov 2013
5.1.1. Sessioon Design Conceptual Meeting
5.1.1.1. Hybrid Meetings: Are remote Participants a pain in the neck?
5.1.1.1.1. 2013EIBTM Knowledge & Networking - Hybrid Meetings: Are Remote Participants a Pain in the Neck? Hybrid Meetings: Are Remote Participants a Pain in the Neck? Stream The Fresh Conference Track 20 Nov 2013, 13:00 - 14:30 Conference Room 5.1 Language: English The technical and production challenges of a Hybrid Meeting are massive. How much can we afford to do for an audience that expects not to pay, or to pay little? Getting them involved is crucial, yet seems to be a bit of a nightmare. Even a separate sound technician needs to be an addition for a good on-line experience. The internet is not controllable, the speakers are nervous enough without complications for the on-line audience... What can we do, what is realistic, what can we afford? Join this session for a set of case-based tips, stories and experience plus a behind the scenes look at the EIBTM/FRESH hybrid effort.
5.1.1.1.2. Single Video screen broadcast
5.1.1.1.3. Options
5.1.1.1.4. Stage Design & setup
5.1.1.1.5. Room design & setup
5.2. 7 Nov 2013
5.2.1. Session Design Logistics Meeting
5.2.2. 13:00 - 14:00 hours CEST
5.2.3. GotoMeeting distributed by Dominika
6. Action Items
6.1. Presenters
6.1.1. Submit a text of 50 words pertaining to yourself which will allow me to make a wordcloud per presenter (for instance your Summary on your Linkedin profile)
6.1.1.1. submit by 15 November 12:00 hours to [email protected]
6.1.2. Consider real life Hybrid case studies you have experienced in various perspectives and provide pointers to guide the discussion
6.2. Moderator
6.2.1. Prepare wordcloud per presenter
6.2.2. Prepare envelopes with role per table
6.2.3. Prepare slidedeck with 11 separate slides with image and single word for the 11 functions of communications
6.3. A/V/ Production
6.3.1. Backdrop
6.3.1.1. Be prepared to receive one panorama image which Moderator will take of the audience at the beginning of the session
6.3.2. Second screen?
6.3.2.1. Twitter feed for hashtag #EIBTM13hybrid and #EIBTM13