How to Stop Your Business From Self-Destructing
von Danny Forest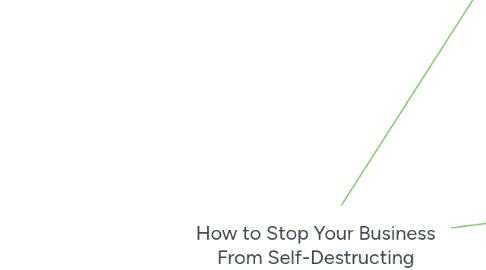 1. Don't Let Clients Walk Over You
1.1. When you let clients walk over, you can do damage to your credibility, and when you run a small business, your reputation is everything.
2. Beware of 'Mates Rates'
2.1. Working for friends can be an easy way to get work through the door, and expand your portfolio
2.2. You can also get some much-needed promotion and social engagement for your business.
2.3. It's an effective way to get momentum building in the early days.
2.4. It can also lead to serious trouble, and it almost always regards money.
2.5. Always agree on a price before you start working.
2.6. Don't assume that your friend will happily pay you, or 'work something out' with you after
2.7. They are likely under the impression you're doing it for 'mates rates,' or for nothing at all.
3. Develop T's and C's Before You Start
3.1. Write up the business's terms and conditions
3.2. Make it clear that once a client paid a deposit, they had agreed to them in full.
3.3. Doing that gives you the breathing room to know that, if shit hits the fan, you can fall back on something.