How to Grow Your Instagram From 1,000 to 10,000 Real Followers in 48 Days
von Danny Forest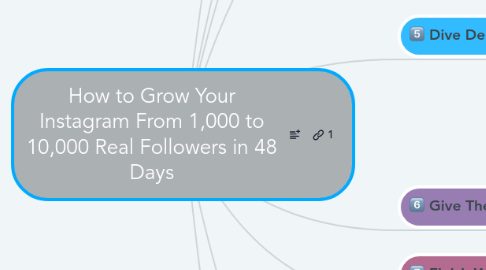 1. The Design of the Carousel Post
1.1. For business purposes, a carousel post should be a series of images/photos posted as one
1.2. A story that unfolds and comes together as a whole.
1.3. You can use 2–10 images/videos or a mix of them. The more the better.
1.4. What's powerful is the "room" to be able to include much more information and engage the end-user for a longer period.
1.5. You can create a valuable presentation, convey a story, explain things, show examples, etc.
1.6. Each swipe visually counts as a 'like'.
1.7. With every swipe, the platform recognises that your content is valuable and will scale it up in explorer and hashtag searches.
2. Start With a Title or Statement
2.1. Grab their attention. Be aggressive in the delivery. This is your hook.
3. Ask a Question
3.1. Trigger curiosity in your consumer so that they will more likely be interested in following through to find out more.
4. Showcase Proof
4.1. Show them you know what you're talking about. Use examples to address the initial statement and question.
4.2. Build on and leverage your reputation and experiences.
5. Dive Deep
5.1. Get deep and informative. Give them all the value they have been waiting to receive.
5.2. Make people spend as much time on your posts as possible. Your copyright should be simple, yet impeccable.
5.3. The long, compelling caption can get your posts much higher engagement.
5.4. Think of these middle carousels as the core of your blog post.
5.5. Another reason to dive deep is that people tend to save posts with lots of writing for later reading.
6. Give Them Tactics and Examples
6.1. Give them value upfront. Engage them and make them part of your community.
7. Finish With a Summary
7.1. Wrap up your carousel in a number of dot-points easy for your target audience to understand.
8. Prompt a Call to Action: Comment, Save or Share
8.1. This is a super important step and the key to hyper-growth.
8.2. Bigger engagement you get on your posts, the more people see your content, especially within a few minutes after posting.
8.3. Aim for long comments where your audience shares their thoughts, their opinions with you.
8.4. Engage your target audience and 'force' them to spend time creating a meaningful response or question
8.5. The "SAVE" option creates a huge upside to the engagement of your Instagram post.
8.6. The Share feature plays a huge part in the Instagram algorithm. When people are sharing your posts, it created social proof
9. Share It and Respond on Your Story and Reply to All Comments
9.1. Early likes, comments, saves, and shares help you to get more impressions and reach more people with your posts.
9.2. Over 70% of people check their stories first when logging onto Instagram.
9.3. You can share your feed post to the story immediately after posting.
9.4. When someone clicks on the image inside the story — it'll be redirected to the original feed post
9.5. And if they like it , there's a good chance they'll like the post, comment on it, or save it for later.
9.6. This tactic is known to double your engagement and create another avenue for people to engage with your content.