How can we prevent Young Travelers from being Ripped-Off Overseas?
von Charlie Mancini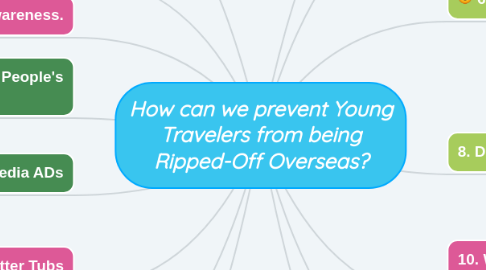 1. 1. AD Campaign in Airports + on Planes.
1.1. Placed: -Universities (Target Market) -Airports (Middle Point) -On PLanes!
1.1.1. -Posters -Billboards -Bus Stop Signs
1.2. Instructional Video: -Implications of Being Ripped Off. -Shown on the planes Flightscreens.
1.2.1. "What to expect where you're going in relation to costs."
2. 2. Fake Experience
2.1. Pranking People
2.2. So Nobody gets upset or scared, and have actors. -Like a FLASH MOB.
2.2.1. So it looks random, but its not.
3. 3. Brochure in the plane, on hotels etc. that tell you average prices for things.
4. 4. The Market Watch
4.1. Concierge in vests that hang around in markets and help people, make them feel safe.
4.1.1. Gives people Jobs + Purpose.
4.1.2. Helps tourists out.
5. 5. Stickers up at hotels as awareness.
6. 6. Navigation App
6.1. See a map on your screen, with green area, using the experience of others to help your decision making.
6.2. When you walk into a local spot it can give you notifications.
6.2.1. Stock Market
6.2.2. Average Prices (What you pay)
7. 7. AD Campaign With People's Experiences.
7.1. On Trains -On the way to work/Uni
7.1.1. Videos
7.1.2. Instagram
8. 8. Directional App that talks to you
8.1. Take you to safe places
8.2. "There's a safe market area 300m away. Wanna come?"
8.3. Employees that work for us, scouting to ensure safety + you're not getting ripped off.
9. 9. Social Media ADs
9.1. Instagram Hashtags #
9.2. Promote and raise awareness, for people to share their stories.
10. 10. Wayfinding Signs that tell you to be Aware
11. 11. Free Butter Tubs
11.1. "Why am i getting this?"
11.2. Most places carge alot, $30. For this amount of butter.
11.2.1. Then they are aware.
12. 12. Mock Menu
12.1. They think it's a real menu, prices are overly inflated to proper pricing.
12.1.1. People handing them out on the streets.
12.2. Menu Will tell you about the inflammation of prices.
12.2.1. Or food iterms but with on Being ripped off.
13. 13. Green Chair
13.1. They sit in the chair (Public Transport or Cab)
13.2. They will fake the price to make you aware.
13.2.1. Experience
14. 14.Stand Here - See Something
14.1. That is hidden that you wouldn't have seen before.
14.1.1. In the Airport.
14.2. The Idea that when you get ripped off, you didn't see it coming.
15. 15. Similar to the Australian Driving Campaigns
15.1. Showing the severe effects of Scams and Being Ripped off.
15.2. Confronting & Dramatic