It's a friday night and my friend Daniel invites me to his birthday party.
by Rigz Ortiz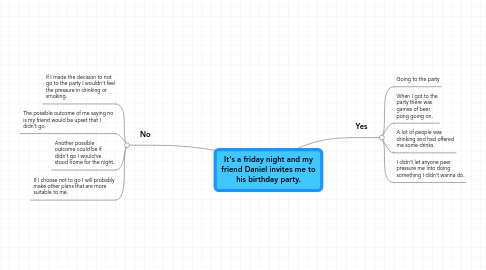 1. Yes
1.1. Going to the party
1.2. When I got to the party there was games of beer pong going on.
1.3. A lot of people was drinking and had offered me some drinks.
1.4. I didn't let anyone peer pressure me into doing something I didn't wanna do.
2. No
2.1. If I made the decision to not go to the party I wouldn't feel the pressure in drinking or smoking.
2.2. The possible outcome of me saying no is my friend would be upset that I didn't go.
2.3. Another possible outcome could be if didn't go I would've stood home for the night.
2.4. If I choose not to go I will probably make other plans that are more suitable to me.