INNOVATIVE DIFFERENTIATION STRATEGIES FOR THREE GROUPS OF GRADE ONE STUDENTS IN AN ENGLISH LANGUAGE ARTS CLASS
by Gwen Norris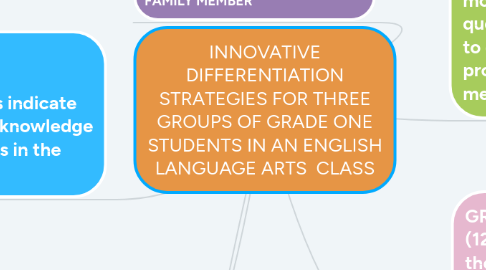 1. PRE-ASSESSMENT FOR INFORMATIVE WRITING UNIT -KAHOOT GAME QUESTIONS AND WRITING SAMPLE ABOUT A FAMILY MEMBER
2. GROUP HEMINGWAY - (5 STUDENTS) They answered most of the pre-assessment questions correctly and were able to complete the writing sample by providing two facts about a family member.
2.1. GROUP HEMINGWAY will be given a list of specific topics and will research them in the classroom library; they will write two or more facts about each topic on the list.
2.1.1. GROUP HEMINGWAY will research the facts for their summative assessment using two different sources (book, encyclopedia, Internet, etc.)
3. GROUP STEINBECK - (12 STUDENTS) According to their pre-assessment, they have some background knowledge of the writing unit's key concepts, but they need to develop higher order thinking skills.
3.1. GROUP STEINBECK will play a game on facts vs. opinions; in teams of two, students will have to identify the statements on flashcards as facts or opinions. If the team answers correctly, they can take the card. The team with the most cards at the end wins.
3.1.1. During the Writer's Workshop part of this unit, GROUP STEINBECK will help each other edit their biographies using peer review checklists.
4. GROUP FITZGERALD - (5 STUDENTS) Their pre-assessment scores indicate that they have limited knowledge about the key concepts in the writing unit.
4.1. GROUP FITZGERALD will work with the teacher in a small group to receive instruction on how to distinguish facts and opinions. After that, they will interview their peers or me to find out information about that person. As a group, we will share the facts we learned about each other and I will help students write these facts down on mini whiteboards.
4.1.1. GROUP FITZGERALD will model this interview activity for the whole class the following day. This will help to instill confidence.
4.1.1.1. GROUP FITZGERALD will use computer assisted learning programs throughout the unit to give them independent practice on the key concepts in the unit.
5. ASSESSMENTS TO BE USED IN ALL GROUPS THROUGHOUT THE INFORMATIVE WRITING UNIT TO TRACK LEARNING PROGESS: OBSERVATIONS, THINK-PAIR-SHARES, QUESTIONS & ANSWERS, EXIT TICKETS, QUIZZES USING KAHOOT AND CLICKERS OR MINI WHITEBOARDS, AND STUDENT-TEACHER CONFERENCES DURING WRITER'S WORKSHOP
6. THROUGHOUT THE WRITING UNIT, I WILL INCLUDE ACTIVITIES FOR EACH GROUP THAT ADDRESS DIFFERENT LEARNING STYLES FOR THE VISUAL, AUDITORY, TACTILE, AND KINESTHETIC LEARNERS.