MEU PRIMEIRO ENSAIO SENSUAL
by Giselle Seghese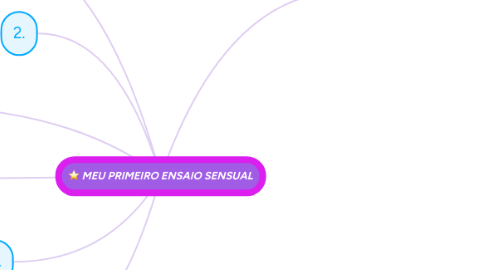 1. 6.
1.1. Follow our blog to never miss an important update, downtime warning or tutorial!
2. 5.
2.1. Download our native mobile apps for iOS and Android to mind map on the go!
3. 3.
3.1. With our short tutorial videos you can get to know MindMeister's most important features in a matter of minutes
4. 2.
4.1. Visit the MindMeister Academy to learn all the tricks and become a great mapper in no time!
5. 4.
5.1. To view the most important shortcuts, click on the question mark in the bottom right corner of your map editor, then click "Key Shortcuts"
6. Lembretes para antes do ensaio:
6.1. Lembrar de depilar 2 dias antes para não estar com bolinhas
6.2. Se hidratar bem um dia antes e no ensaio fotográfico: sua pele brilhará!
6.3. Tente não inventar nada novo como tatoo, piercing, mudar cor do cabelo, corte radical...por que pode sair diferente do que queria!
6.3.1. This is a child idea
6.4. Unhas feitinhas básicas ou vermelho, vinho, marrom (outras cores podem destoar dos figurinos)
6.5. Se possível hidrate a pele antes do ensaio!
6.6. Durma com os anjinhos na noite anterior ao ensaio! Acorde bem, se alimente bem e... o sucesso é garantido!
6.7. Tire TODAS suas dúvidas antes do ensaio para ter certeza que ficará bem
7. 1.