Daily life in the Roman Empire
by REECE EVANS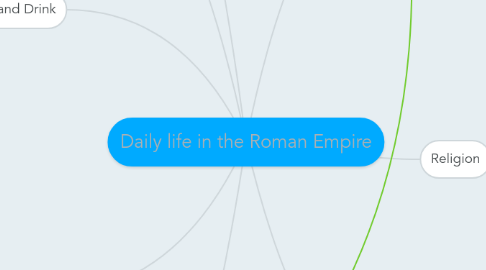 1. Law and order
1.1. In the days of the republic the Senate and the assemblies were important sources of law.
1.2. They Roman Judge said whatever would please the empire would be the law
1.3. Important senators had their own bodyguards.
1.4. The ultimate source of law was the empire
2. Religion
2.1. Romans adopted many greek gods
2.2. They believed the gods controlled the daily life
2.3. People made offerings and promises to the gods
2.4. Festivals and holidays, or "holy days," were held throughout the year to honor the gods
3. Family Life
3.1. Family life in Rome was ruled by the paterfamilias
3.2. In poor houses the wife and husband has to provide for their family
3.3. Richer women ran their house in Rome
3.4. If the father didn't approve of a newborn, it was left outside to die or to be claimed as a slave
4. Food and Drink
4.1. What Romans cooked and ate depended on whether they were rich or poor
4.2. The poor cooked on small grills
4.3. Only rich had kitchens in their homes
4.4. Favorite drinks included plain water and hot water with herbs and honey
5. Education
5.1. poor kids had to be sent to work instead of going to school
5.2. Classes were held in public buildings and private houses
5.3. A typical morning would start in the morning really early
6. Recreation
6.1. There were many forms of recreation in Rome.
6.2. The rich enjoyed plays in theaters and musical performances in one another's homes.
6.3. Both rich and poor relaxed at Rome's public baths.
6.4. They like watching gladiators fight in big arenas like the colosseum.
7. Country life
7.1. Wealthy Romans often owned country estates with large homes, called villas
7.2. Villas are a place where Romans invest their money raising crops and livestock and a good place to relax n the heat
7.3. plenty of time left over for reading and writing, as well as for hunting, picnicking, and taking long walks in the fresh air.
8. Housing
8.1. Housing in rome was very different for the poor and the rich
8.2. Wealthy people live in houses made of stone and marble, walls shut out the noise and dust
8.3. The richer people sometimes have indoor pools
8.4. the less rich people lived in a tall apartment building being smushed together