Le donne dell'Odissea
by irene coppola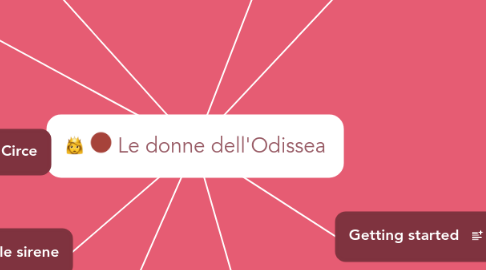 1. La figura di Penelope è costante all'interno dell'opera. E' presente nei pensieri dello sposo ma è protagonista indiscussa degli ultimi libri dell'Odissea
2. Odissea VI, l'incontro con la principessa Nausicaa sull'isola di Ogigia rappresenta una svolta nell'ordine cronologico con cui sono stati narrati i fatti fino a quel momento.
3. Odissea V, Calipso è più nota come l'amante di Ulisse. La permanenza dell'eroe presso di lei è di cinque anni. In seguito all'intervento degli dei deve lasciarlo andare.
4. Penelope
5. le sirene
5.1. Odissea XII, l'incontro con le sirene dal viso di donna e dal corpo di uccello rappresenta l'ennesima sfida a cui Ulisse si sottopone.
6. Calipso
7. Nausicaa
8. Circe
8.1. Odissea X, L'incontro con la maga Circe permette ad Ulisse di riprendere le forze ma soprattutto di incontrare lo spettro della madre Anticlea. Ancora una volta l'eroe rifiuta l'immortalità
9. Getting started
10. By the way, this is a floating topic. To create a floating topic, simply drag it away from the map center.